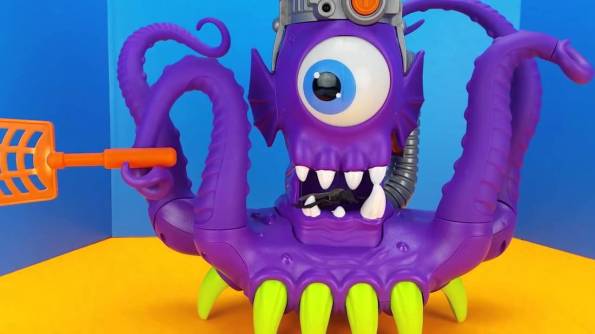 Imaginext toys are definitely popular among little boys and girls. I am glad to see a few different Imaginext toys on clearance sale at Walmart.ca, but the most interesting one has to be this Imaginext Tentaclor toy. It was originally $39.94 but right now it is on clearance sale for just $19. Plus you can have it shipped to your local Canada Post Office or Walmart Grab & Go Locker for free.
Little space explorers are going to love playing pretend with this Imaginext Tentaclor. This toy is the ultimate alien enemy in the battle between humans and aliens. You can place Imaginext figures in the Tentaclor's tentacles and he will hold onto them with his super strong grip. You won't find this creative toy anywhere else for less than $19, that's for sure.
Plus, when other Imaginext Spaceships fire at him he will respond with cool sound effects. The other spaceships are sold separately of course. You can also squeezee the  handle on the Tentaclor's back to watch him whip the figures around that he has in his grip. He will even hit them with his very own fly swatter! Kind of cute, right? When you place Imaginext figures in his mouth he will make chomping sound effects. This toy is bound to keep your kiddo and his imagination amused for hours and hours, especially if they already have other items from the Imaginext Space sets. I can't wait until my son is old enough to appreciate and play with toys like this. This toy is best suited for children ages 3 through 5.
When it comes to shipping, you can spend $50 to get free shipping right to your home. Otherwise you are going to need to have the item shipped to your local Canada Post Office or local Walmart Grab & Go Locker - both of these options are totally free. There are plenty of toys on clearance sale at Walmart.ca so I am sure you won't have a problem finding $50 worth of items to snag and wrap up to put under the Christmas tree.
(Expiry: Unknown)