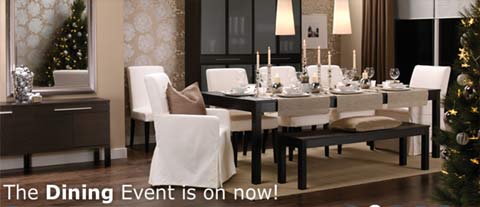 This dining event at Ikea Canada is just in time for Christmas. If you're planning on doing a lot of entertaining over the Christmas holidays, then there could be some appropriate bargains in here.
The major offer that Ikea is advertising is this: buy 3 dining chairs, get 1 free. I think this is pretty decent - as most people would be buying at least 4 dining chairs anyway. Just last summer, I purchase 6 dining chairs, so this kind of deal would have meant I got an extra 2 for free.
There are other offers on smaller items too, which are worth a mention. Their 18 piece "dinera" dinner set for $29.99 seems to be a good purchase. They're also offering a nice little cafetiere for only $9.99, which could make a nice pressie for a coffee-lover. I like the Ikea serving platter - it's a 3 tier set, for only $14.99. One of those would be really handy in the middle of my dinner table.
While, I am talking about Ikea, I'll also mention their deal on Christmas trees. If you buy a tree for $20, they will give you a $20 Ikea coupon. The coupon gets you $20 off a $75 purchase, but it is definitely worth it if you are planning on spending some dosh at Ikea anyway.
(Ends 13th December 2009)