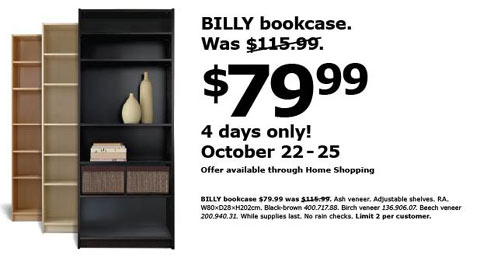 If you are lucky enough to live near an Ikea, they have an offer on their Billy furniture ranges right now. Instead of the regular price of $115.99, the Billy bookcases are only $79.99, until the 25th of October 2009.
As it is the 30th anniversary of the Billy products, this promotion is here to celebrate that fact. This is the product page of the actual Billy bookcase on offer. You can order the bookcase in quite a few different colors, from black-brown to silver.
I have a few of these Billy bookcases in my front room. They are really excellent for holding all my lovely sci-fi books! Plus, the ranges hardly change styles much over the years, so if I ever want to buy more matching furniture from Ikea in the future, it won't be a problem.
So if you're stuck for storage space and these bookcases meet your budget, they are a great buy.