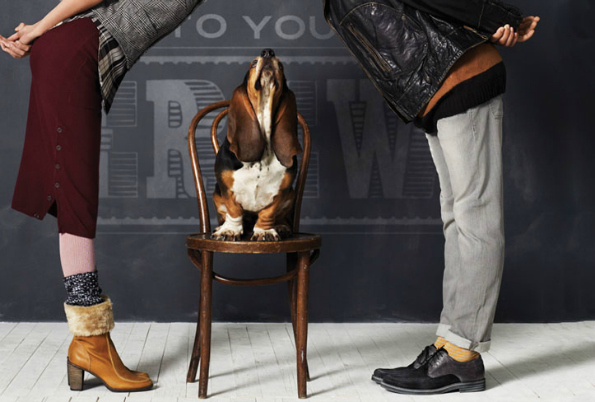 Hush Puppies Canada has released a huge family & friend's coupon code for 60% off everything and free shipping. You can use this on top of the outlet deals and the flash sales currently on their website where shoes are already marked up to 68% off.
Click here to shop @ Hush Puppies Canada now
Coupon Code: HPAW15
Discount: 60% off & free shipping
Expiry: 29th November 2015
One of the best deals for women is on the Ceil Mocc Boat Shoe. This shoe is on flash sale from $100 down to just $29.99 (60% off). Surprisingly, the silver suede shoe is still available in plenty of popular sizes (6, 7, 7.5, 8, 8.5, 9), which increases the chances of this being in stock in your size. After you apply this coupon code, the shoes will only cost you $16 (plus tax). You can see how this works in my cart at checkout: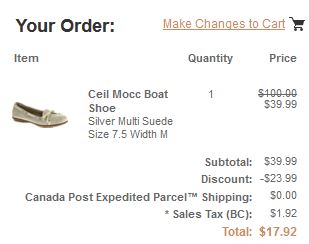 Even with tax, my order is still under $18 for an awesome pair of Hush Puppies.
Men with larger feet (13+) should check out the Zack shoe. It may be the cheapest pair of men's shoes for larger feet sizes that you can get. Originally $130, this shoe is now on sale for $49.99. After coupon code, your pair of fine leather shoes comes down to $19.99.
There are several other amazing deals as well. This Labarre Slide and this Labarre T-Strap were each $250, but the two styles are now on sale for $79.99 each. All sizes are in stock across the multiple colour options and, truth be told, I prefer the red colour to the blue on both these shoes. After coupon code, pay just $31.99 - which means you save $218 per pair.
These two styles of shoe are the highest discount - at 68% off before coupon - that I can find. They originally cost so much because they are designed after vintage Hush Puppies and they were part of the Melissa Nepton's Spring 2014 collection displayed on the runway.
There are tons of other shoes to choose from and combine with this deal. While I prefer combining sale items with the coupon code, you could buy yourself a regular-priced pair of shoes and still get 60% off with free shipping. In this way, you sort of make your own sale and get the shoes you really want.
This sale lasts through Black Friday so I assume this 'is' their Black Friday sale. Pick up a brand new pair of shoes for you or your partner at Hush Puppies Canada.