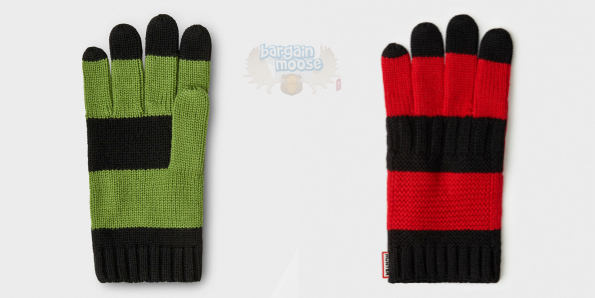 Hunter Canada has an extraordinary deal on these Original Striped Guernsey Gloves. These gloves retail for $50, and are now on sale for $15 with free shipping.
Every spring I take stock of my winter apparel to determine what is good for another year and what needs replacing. Sure, I could do this come fall but fall is not the time to find good deals on replacement winter wear pieces. I currently own a pair of green and black gloves that I purchased at Hudson's Bay. However, they are nearly worn through in the finger pads so I need a new pair.
Funny enough, the Striped Guernsey Gloves come in two different colour combinations: green and black as well as red and black. The green and black pair would be an excellent replacement for my current green and black gloves.
These are also much better quality than my current gloves. The Hunter Gloves are made of 90% wool and 10% cashmere for amazing warmth and comfort. Wool often evokes memories of itchy socks, but these are made from the softer Merino wool that will not bother your hands. People forget that wool is one of the best materials out there for winter. When wool gets wet, its ability to retain heat actually increases. Most modern fabrics have the opposite reaction to water.
These gloves are a shorter driving style, which is just fine for me. There is nothing like touching a frigid cold steering wheel in the middle of winter. I do not have a car starter except my own fingers showing the key into the ignition switch.
The gloves come in two sizes: small/medium and medium/large. I tend to wear a small to extra-small in all my other pairs of gloves so I would buy the smallest size that Hunter Canada offers.
If these gloves are not quite the style for you, then I suggest purchasing the Original Neon Trim Gloves that were $60 and are now $18. These gloves are pure merino wool and have a longer length. Choose from three colours with pretty neon trim.
All orders from Hunter Canada ship free of charge to your home. Purchases also come in exclusive Hunter packaging.
(Expiry: Unknown)