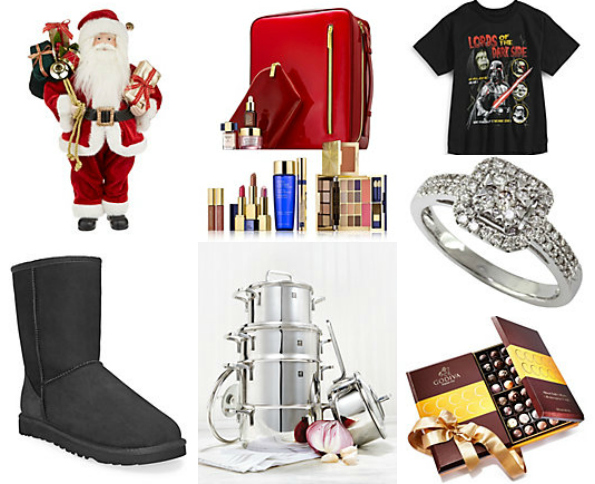 The Hudson's Bay Canada has just launched their Cyber Monday sale with up to 70% off clothing, household items, and more. For Cyber Monday, they are also offering Free Shipping on any order and $25 off orders of $175 or more with the following coupon code.
Click here to shop the sales @ Hudson's Bay Canada now
There is a list of exclusions, so click that little text link there if you run into any difficulties. Here is a rundown on some of the deals you can score today only:
Home
Clothing
Accessories
 Others
The sale on Godiva chocolate is pretty nice - probably because I love chocolate. This 80-Piece Ultimate Truffle Collection was $165 and is now on sale for $82.50.
There is also a 10% off Cosmetics & Fragrances deal on right now that could prove quite interesting. Remember this Estee Lauder Blockbuster Set Only $69.50 ($330+ Value) with Estee Lauder Fragrance Purchase deal that we blogged about before? Well, that set is on sale for $62.55! This is a pretty rare sale as fragrance and cosmetics are usually excluded from all discounts.
I also wanted to point out that there is currently up to 50% off in the Christmas shop. This mythical little place is where you can find ornaments, stockings, wreaths, Nutcrackers, and other Christmas decorations. For example, this Plaid Moose Stocking was $29.99 and is now $14.99. This Shimmering Owl Ornamentwas $4.99 and is now $2.49.
This is just a taste of the deals currently on at Hudson's Bay Canada. For a full listing, please visit their website. Some deals are not quite up yet but they should be within a few hours as HBC realizes the discount hasn't applied properly. This is a sale you will not want to miss as it is probably the last big sale they will have before Christmas! Get your shopping done in time to stick gifts under the tree.
I also highly recommend visiting the regular clearance section for great deals to combine with the free shipping. For example, the Dark Side Star Wars T-Shirt and the Avengers Graphic T-Shirt  from Licensed Tees are both on sale from $17.99 down to $5.39 each. These are kids' shirts and I am sure your little geek will love them.