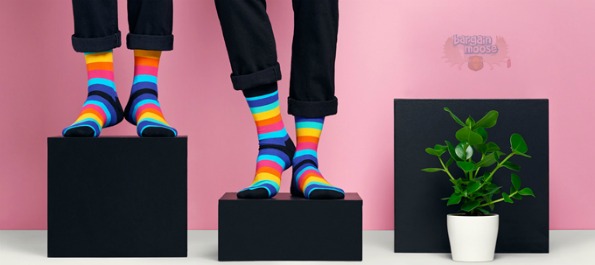 This Black Friday sale I just had to shop as soon as I saw it! HS Sweden is offering 40% off and free shipping with no minimum on their fantastic socks and new underwear for men and women.
I am DELIGHTED by this deal! First, I own dozens and dozens of these socks. They have lasted me many years and I am always surprised if I find a hole in one because it happens so rarely. They are certainly durable and I love looking at my feet!
I totally had to get off the website quickly or I would have bought a zillion socks. I am usually all over dots but these Kurbits socks are so darn cute! I love the splashes of colour radiating back from the front. The blue version is even more vibrant.
The new feather design is super adorable as well. I cannot help but want a pair in dark grey. All women's ankle socks are priced at $13 a pair, thus they come down to $7.80 after coupon. Ankle socks are a bit cheaper and knee-high socks are a tad more expensive but entirely worth it.
If you want some underwear, then look no further than HS Sweden. These striped women's briefs regularly cost $12, but come down to just $7.20 in your cart!
I like getting my partner funky underwear and I just picked out a pair that reminds me of him. These Watermelon themed men's boxer briefs cost $20 regular price, but come down to $12 after coupon. My husband loves watermelon - it is his favourite fruit.
While all products are in Canadian dollars, these items do ship in from out of the country so you may be subject to duty. However, I have purchased from HS Sweden more than I care to admit (over 100 socks worth) and never had to pay duty. While I do not need any more socks, I had to purchase a couple pair of ankle socks as I wore through all my pairs in that style.
This deal is extremely awesome because of the free shipping offer as well. Usually they require you buy four pairs to get free shipping but now you can buy less than that and still get your order shipped for free.
(Celebrity collaborations are excluded).
(Expiry: 30th November 2014 I think)