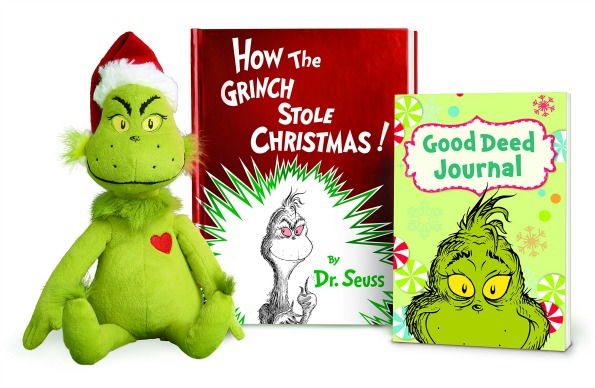 How The Grinch Stole Christmas! was first a book by Dr. Seuss and then a movie. I remember reading the book and watching the movie as a little child. It is one of my earliest Christmas memories - that and my Dad wincing in pain whenever he heard the whovians from Whoville sing. This How The Grinch Stole Christmas! Book and Grinch is an awesome box set including both the original book and a lovely green Grinch stuffed toy. Originally $37.99, this set is now on sale for $23.81 with free shipping.
What surprised me about this set was how much cheaper it is at Chapters Indigo than anywhere else. The same exact book and plushie set currently costs $37.80 @ Book Depository and $32.93 @ Amazon Canada. This makes Chapters' price $10 less than Amazon's price.
This set is all sorts of awesome and something I would buy any kid I know. The set includes a hard copy of Dr. Seuss's beloved classic How the Grinch Stole Christmas?. This book should be in every child's library and it usually retails for $13.71 alone.
In addition, the book comes with this large 14" tall Grinch soft plush. Your child can cuddle the plush while listening to this timeless story of holiday giving. I love his little Christmas hat and I love his little red heart. He is one of the best Grinch stuffed toys I have seen for sale.
There is also a BONUS exclusive (to this bundle) 32-page paperback "Good Deed Journal" for your own child to keep track of all of their good deeds throughout the Christmas season. There is room for children to write and to draw in this book. I think this is a really fun accessory to teach your child the true meaning of Christmas. They will learn how being good can make them happy and how doing nice things for others is rewarding both for them and the other person.
This bundle would make a wonderful Christmas gift for any child this year. I would be tempted to give this gift on Christmas Eve so your child can enjoy a good Christmas story while hugging their Grinch.
(Expiry: Unknown)