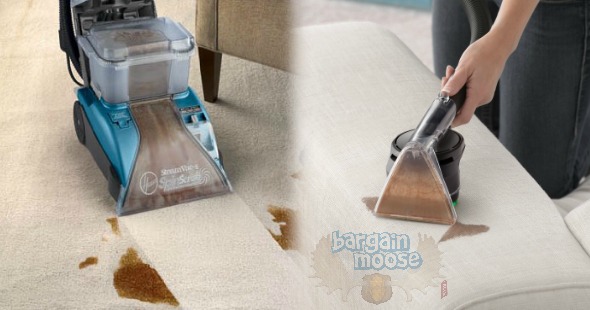 You really won't realize how dirty your carpets are until you get 'atter with a Hoover SteamVac Carpet Cleaner. The problem is that these cleaning machines can sometimes cost you an arm and a leg - especially if you want a quality cleaner. Right now the Hoover SteamVac Carpet Cleaner with Clean Surge is on sale for 50% off. Today you can pay just $116.11 as opposed to the regular price which was $229.99. You will get free Super Saver shipping too.
Amazon Canada's deal of the day is a pretty good one today. I have yet to see this Hoover SteamVac Carpet Cleaner with Clean Surge for this low of a price. About 6 months ago I saw it for $150, but you can't beat the price of $116.11 for this magical cleaning machine. With the powerful 12-amp Hoover motor, no carpet will be too tough. This cleaner deep cleans to remove stains and odours with the aid of hot tap water and carpet solution.
Take a look at what other Canadian retailers are selling this Hoover SteamVac for:
Out of 78 customer reviews, this Hoover SteamVac Carpet Cleaner still holds a 4.5 star rating - which is pretty good. The only complaint I could see is that the machine will leak if the parts are not connected together properly, but wouldn't that be expected? If you know you are about to go over a stained spot, simply use the Clean Surge feature to give an extra burst of cleaning solution to solve the problem. If you have pets and kids like I do, then a SteamVac like this is a necessity. I have even used the steam vacuum I have to clean my couches and my kitchen tile believe it or not. Don't worry - it comes with a hand tool that is perfect for cleaning the couches and even upholstery.
Amazon.ca offers free shipping on orders over $25, so you won't have to worry about any extra costs there thankfully. I am sure shipping something of this size could get rather costly elsewhere. If you apply and are approved for an Amazon.ca Rewards Visa Card, you would be discounted by a further $20 which would bring your total down to just $96.11.
(Expiry: 3rd July 2015)