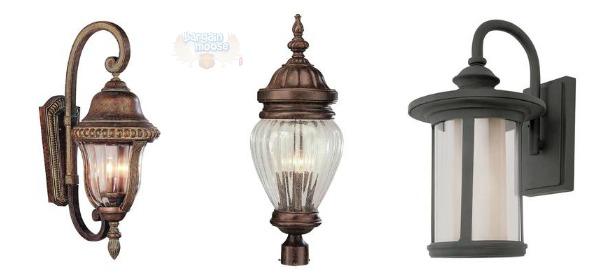 Home Depot is selling a selection of post top lights and wall mount lanterns for up to 64% off their original price.
I have always wanted to have my very own lantern. It probably stems from my childhood love of C.S. Lewis' Chronicles of Narnia series wherein the lamppost plays an integral role in Lucy finding her way home. I find lampposts whimsical, romantic, and stalwart. You do not find many lampposts in people's yards these days, but I would have one if I had my own land. I might even have two. I was delighted to see that Home Depot is still selling tops for them.
The Iron Patina with Curved Glass Post Top Lantern is a rustic looking top that fits right into my storybook land of Lantern Waste with a lone light guiding a little girl back to the wardrobe from whence she came. The top is also inexpensive for anyone wanting to get into the lamppost business: originally $72.94, the top is now on sale for $39.99. You can buy the same Curved Glass Post Top Lantern in Pine Green instead of black for $39.99 as well, originally $72.94.
This next lamppost top has a bit more charm and will have all the local squirrels chattering with jealousy. The Acorn Glass Post Top Light in Rust Patina has a whimsical fantasy all its own. Originally $187, the top is now on sale for $81.28.  I love the thick bubble glass used for the Acorn post top, as it looks more durable than the two tops above.
If you are lacking a post, you can always mount a lantern outside your house on the wall. This Clear and Tea Glass Wall Lantern - Small has a modern Asian inspired appearance. The simple black frame and clear glass panels will match with almost any home. Originally $145, the lamp is on sale for $52.08.
Lastly, this Bronzed Crowned Wall Light - Medium looks an awful lot like an acorn itself and certainly has that old world charm. I think the acorn lamppost top and this acorn wall light would look lovely together. Originally $207, this wall light is now on sale for $77.40.
All these products qualify for free shipping from Home Depot Canada, which is a nice bonus on top of their sale prices. I know that we rarely think of lighting during the summer, but these would make lovely lights for the coming fall.
(Expiry: unknown)