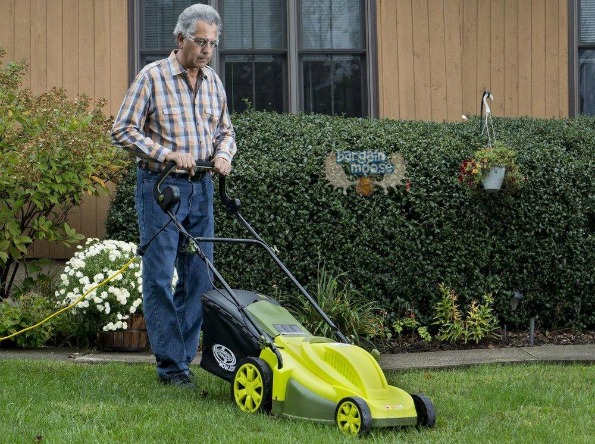 Home Depot has a long weekend big savings event happening right now and I found a terrific deal for the Moosers who need to cut their lawns. Get the Mow Joe 13 amp 17 inch electric lawn mower for only $140, which is $89 off the original price of $229. You'll also score free shipping on this item.
Pretty much anyone living in a house has a lawn to cut. Some of us have larger ones than others. Our lawn is fairly subdivision-sized, which means we don't need a powerhouse of a lawn mower, but we need one that will work on the long grass when my husband hasn't yet got around to cutting it.
Being electric, this mower is fairly easy to setup, with no messy gas to fool around with. It will cut 17 inches, which seems pretty wide and you can use the 7-position height adjustment to decide how long you want to leave it. You really don't want to trim it too short in hot weather or you'll end up with burnt grass (not a good look). It also has a bag that will collect the clippings, or you can turn it into a mulching machine by taking off the bag.
There are several reviews on Home Depot's site, which give it a total of a four out of five rating.
It's light weight enough for me, a 72 year old women, to use and does a fairly good job mowing. Doesn't like tall weeds/grass so mow frequently. I would only recommend this for small areas. A good value for the money.
Want some price comparisons? Of course you do! $198 at Amazonand Walmart. 'Nuff said! Home Depot's price is about $60 less, making this a very solid deal, which includes free shipping.
This would make a great gift for someone whose lawn mower is struggling on its last legs, for someone who has just bought their first house or for your lawn boy.
(Expiry: Unknown)