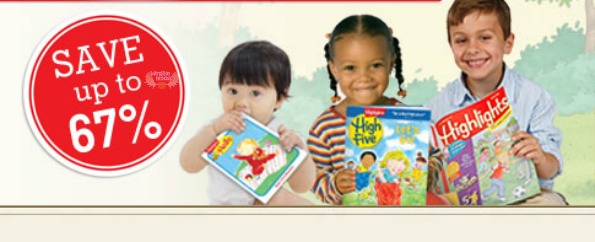 Get Highlights magazines for kids, even as young as an infant for up to 67% off the regular subscription price by clicking the link below.
Highlights magazines are fun, informative and educational magazines for kids of differing age groups. My kids have had subscriptions to these magazines and they love them. First of all, they love getting mail just for them. Second, they love to do all the different activities, stories and even arts and crafts that the magazines offer. Each  magazine is tailored to a specific age group, so the material is always age-appropriate.
Hello is for babies age 0-2, with read-aloud stories, colourful pictures and parent and child activities.
Let's Go is for preschoolers, with puzzles and games along with the above stories, pictures and activities.
Highlights is for kids age 6-12. Young readers can challenge themselves with stories, puzzles, games like hidden pictures and even do experiments.
I love these magazines because they entertain my kids and teach them. It also helps foster a love of reading other medium besides books. I am an avid magazine reader and really see the value in reading loose leaf publications, especially with current events as a part.
Get one year for $24.84, as compared to the regular subscription price of $34.44, two years for $41.76, which was $57.12 and three years for $59.04, and was $78.84. As you can see, there are some substantial savings here. It is almost like getting an extra year free.
Shipping is included in the cost.
(Expiry: Unknown)