Harvey's Canada have released a brand new hamburger! It's called the Angus mushroom melt and it looks pretty juicy. They're giving out a free coupon which you can print out at home. It entitles you to a buy 1 get 1 free offer.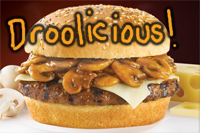 On the Harveys home page, there is a piccie of the Angus burger, and they've added a little animation of steam coming off the burger, making it looks pretty tantalizing! I will admit I'm not a big fan of mushrooms. I'll eat them if they happen to be on there, but I won't go out of my way to add mushrooms to something I am actually cooking for myself. This burger seems to be loaded with mushrooms!
I once heard that if you eat too many mushrooms, they'll actually take root in your stomach, and start to grow. Eventually, they'll sprout from your earholes too. It's true.
Deal expires on the 5th April 2009!
UPDATE - extended to 30th April 2009!