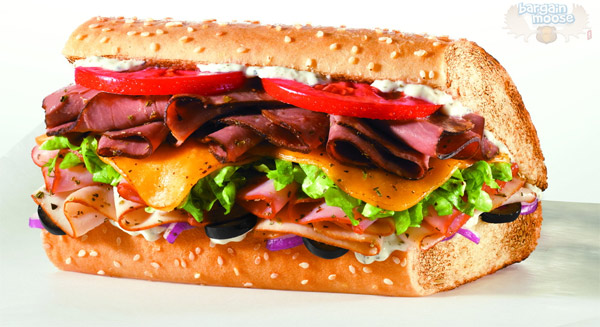 Here's a great deal for the sub lovers! For only $7, you can get a Groupon voucher which entitles you to receive either 2 regular subs or 2 salads from Quiznos, worth $13.98.
(Go to Vancouver sidebar if you can't see this deal when you land on Groupon)
That works out at half price, and would be perfect for lunch for two!  As I write this post, there is 1 day and 17 hours left to purchase the Groupon. It says limited quantity available though, so there might be a limit after which we can't buy them any more - get it fast!
But just a quick warning - not all Quiznos locations may accept these coupons. As Quiznos is a franchise, the individual store owners can choose whether to opt-in or out of promotions like this. Before you buy the Groupon, it might be worth taking one minute to make a quick call to your local Quiznos and just ask if they will accept Groupons checking on the site that your local Quiznos accepts Groupons - see Tammy's comment below. I hope they do, good luck guys!