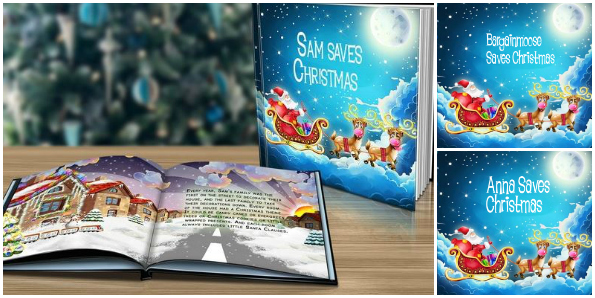 If you are looking for a special gift this Christmas, then check out these Personalized "Saving Christmas" Books on sale from $24.99 down to just $5. You will receive a voucher to redeem at Dinkleboo, where you will need to pay an extra $4.99 for shipping. All inclusive, your beautiful new personalized "Saving Christmas" book will cost $10.
Make sure to choose the "One Personalized Softcover Storybook" option to get the softcover "Saving Christmas" book for just $5. When ordering the Personalised Soft Cover Story Book: "Saving Christmas" on Dinkledoo, you get to choose several customization options. Enter your child's name (up to 14 characters), choose the season, gender, skin tone, and whether you prefer British English (closer to Canadian) or US English.
The website will insert your child's name into various parts of the book - as your child becomes the main character - and your child's name will also be on the cover. You can see above how that works. Generate a preview of the book to ensure you spelt your child's name correctly. This is a really sweet little Christmas gift for a young one who can read or a child who can understand when you read the book to them.
I price compared with similar personalized Christmas books and found the same general price range everywhere. Stuck On You Canada has personalized Christmas storybooks on sale for $23.96 and Put Me in the Story (US) books start at $29.99 (there is a $10 coupon so they come down to $19.99 + shipping). Most of these sorts of books are around the $30 range full price, so a personalized Christmas book for $10 including shipping is pretty sweet.
If Christmas isn't your thing, then you need to check out this other deal. This Personalized Story Book Under Water Adventure from Dinkleboo is also on sale from $24.99 down to $5 plus shipping (total $10) in softcover as well. Over 1000 of these have already sold.
All prices are in USD from what I can figure out. Even so, this is an extraordinarily good offer that I am delighted to share with you. This is part of Groupon Canada's pre-Black Friday deals - check out the rest of the website for more offers.
(Expiry: Unknown)