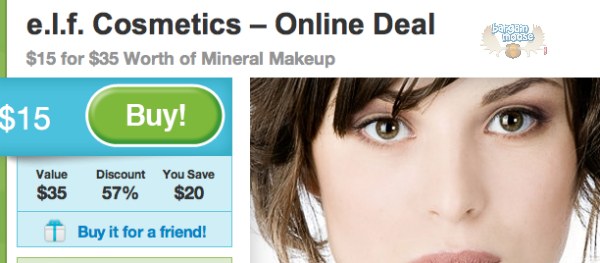 If you love shopping at ELF Cosmetics but want to save more $$ check out this awesome Groupon! Get $35 worth of ELF Mineral Cosmetics for only $15!
You have 2 and 1/2 days left to buy this deal.
Here is the fine print of the deal:
Expires Feb 22, 2012 Limit 1 per person, may buy 3 additional as gifts. Limit 1 per order. Not valid until 8/23/11. Online only. Extra fee for shipping. Valid only for mineral makeup.
So this voucher is only good on mineral makeup, but being that ELF cosmetics has such a huge selection of quality mineral makeup - that shouldn't be a problem. If you have never tried ELF Cosmetics before try the Mineral Makeup Starter Kit for $20, a $60 value.