GreenMan Gaming: Up to 75% off Select Grand Theft Auto or Worms (PC) Games + Bonus Discount!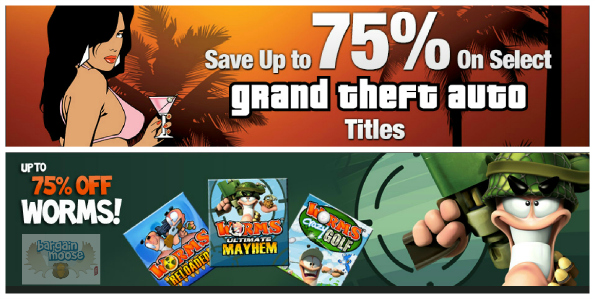 I'm guessing that it was just a coincidence that GreenMan has these series on sale for up to 75% off at the same time. If it isn't, I'd really like to know why they chose Grand Theft Auto and Worms. Make sure you read all the way through to get the bonus discount!
There are six games, three for each series, on sale right now. Check them out!
There are some really good games here. I haven't played worms in years and years but I always enjoyed it and, looking at some of the videos on Youtube, the ones available here look really fun, especially Worms Reloaded. For those who haven't played worms before the basic premise is that you and an opponent lob different weapons at each other. You have to adjust angle and force and adjust for weather conditions and environmental effects. I played Vice City and San Andreas both and they are really fun if you can get beyond the stigma around them. They aren't all that bad but you probably don't want the kids around while you play.
I mentioned that it's an odd mixture of games to have on sale but I think I know what happened. The GTA games are just a regular "Hot Deals" sale that GreenMan has from time to time. The Worms sale is because the latest installment, Worms: Revolution just dropped four days ago.
You can also pick up the new worms games at GreenMan. The aren't discounted... or are they! Keep reading!
BONUS ROUND!!
GreenMan has been doing a lot of these and they are awesome! 20% off with this coupon code. It only works on PC downloads and may not work on all games. It only specifies that it wont work with XCOM but you never know. It does happen to work on all the games featured in this article. It brings the two Worms: Revolution games down to $12!
Discount: 20% off
Coupon Code: GMG20-FXYD1-7WHP1
Expiry: 19th, October 2012, 7:00AM ET
(GTA Sale Expires: 19th October 2012, 7:00AM ET)
(Worms Sale Expires: Unknown)
(20% off Coupon Code Expires: 19th October 2012, 7:00AM ET)