Gravity Pope Canada is no stranger to the Bargain Moose, and here we are featuring them again. They are having a summer sale with discounts up to 50% off their spring 2010 products. Gravity Pope is designer, so their stuff isn't cheap! Every discount helps!
Their site design isn't brilliant however they do have a nice feature where you can go inside specific brands or catagories and then click "Filter: Sale Items Only." I highly suggest using that system for the women's and men's sections as just clicking Women (or Men), and then Sale.. the page takes forever to load as there are hundreds of sale items! However, I have included a direct link to all sale shoes for the kids below (shorter list):
Unfortunately the free shipping does not include sale items. So it is $15 shipping for your first item, then $5 for each additional item.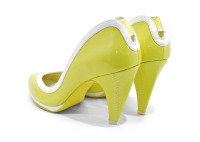 I enjoy designer shoes, I find they just feel better and my feet hurt less when I wear them. There is a higher comfort level. I nearly fell over when I saw these Diesel 'Plankton Mojito' shoes on Gravity Pope! They were originally $260.00 and on sale for $99.99! Too bad they don't have them in my size anymore!