Grab Yourself A Kelloggs Adventure Pass!
MrChristian from the This was Winnipeg blog has emailed me about a deal he stumbled across. It's an offer from Kelloggs Canada, regarding the "Kelloggs Adventure Pass."
I'll let MrChristian explain in his own words:
In a nutshell, get the coupon on the package and your kid gets up to $10 off their admission price to one of 500 museums. It's not a bad deal. Something I like is that because it's in partnership with the Canadian Museum Association there are lost of locations to use it at. I clicked on Manitoba and there's even a bunch outside of Winnipeg. Usually you don't get that sort of coverage with event pass contests - something in the smallest of towns.

It's also nice because your kid can do something to help work off all that sugar and sodium you pumped into them feeding them the cereal!
He's right! I clicked into Ontario, and there are quite a few locations participating in the offer. Here's what the website itself states:
The Kellogg's Adventure Pass entitles you to up to $10 off the purchase price of one regular priced admission with the purchase of one accompanying fully paid adult admission.
What does that mean for us? Let's take an example – the Art Gallery of Ontario in Toronto where an adult ticket is $18. Now, regular pricing means that 2 people would be paying $36. But if you present the free coupon, you'd get entry for only $26. Another example would be Toronto Zoo – 2 adult tickets for $30 instead of $40.
Here is the list of cereals that apply: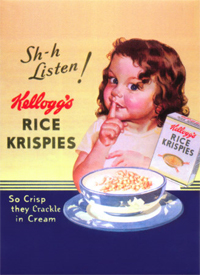 Rice Krispies

cereal (525g)

Crixpix Krispies

cereal (350g)

Rice Krispies Vanilla Flavour

cereal (420g)

Rice Krispies Cocoa

cereal (420g)

MultiGrain Krispies

cereal (385g)

Froot Loops

cereal (380g)

Kellogg's Frosted Flakes

cereal (485g)

Corn Pops

cereal (345g)

Mini-Wheats Original Frosted

cereal (555g)

Mini-Wheats Brown Sugar Flavour

cereal (555g)

Mini-Wheats Maple Flavour

cereal (540g)

Mini-Wheats Strawberry Flavour

cereal (540g)

Mini-Wheats Cinnamon Streusel Flavour

cereal (540g)

Kellogg's Two Scoops Raisin Bran

cereal (675g)
The coupon expires on the 30th of December 2009, so if you have ages to use it. :)
On a related note for those of you in Toronto, Montreal or Ottawa, have a read of my blog post about free Arts & Culture passes.