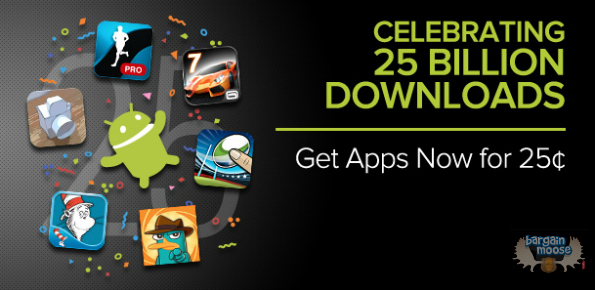 Oh it's that time again, friends. Google has hit another milestone; this time they have had 25 billion apps downloaded from their app store! You know what that means, don't you? Apps for a quarter! Woo!
In the link above, I linked to the Google Play front page. I did that because the deals change daily, so if I link directly to the sale page, it might not work tomorrow. Let's get into some apps!
I didn't include the prices there because I am not 100% sure of what they were and it isn't mentioned on the Play Store. I think I remember some of them so here it goes: I think Cut the Rope: Experiments was $2, World of Goo was $4 or $5, Paper Camera was $2, and I have no clue about Dungeon Village. Again, these are all guesses and I'm pulling them from memory. I could be completely off, so if you get World of Goo thinking you are getting a good deal and it ends up be a $1 game, don't come crying to me!
I already owned Cut the Rope: Experiments and World of Goo and they are both amazing, addicting games. I am not into camera apps, but there are a lot of people who love Paper Camera an inordinate amount. Dungeon Village is another one I haven't played around with, but I am looking forward to it. I just hope that they don't have in-game purchases or, if they do, that they don't MAKE you buy them, to play the game.
Google did this when they got 10 billion downloads and it went on for a few days, so keep checking back to see new games. I think they even put all the games on sale again at the end of the sale, but I don't know for sure.
(Expires: Unknown)