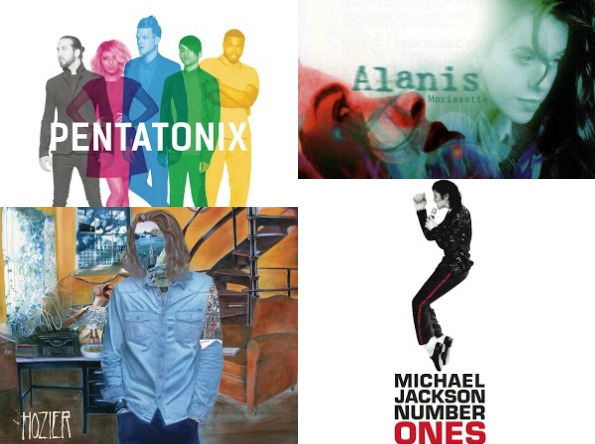 We like bringing you free music, but sometimes you have to pay just a little more to get the best stuff - like 99¢. The Google Play Store has discount four amazing albums to just 99¢ each. Enjoy albums from Michael Jackson, Hozier, Pentatonix, and Alanis Morissette. All four albums have a total value of $37.
There are four 99¢ albums to purchase - buy all or just buy the artists you already like. First, everyone needs to pick up Michael Jackson - Number Ones. This album has 18 of his greatest hits ever including Thriller, Billie Jean, and Don't Stop til' You Get Enough. I know all three of those songs actually! The same album costs $6.99 on iTunes Canada right now.
Next, pick up Hozier by Hozier - it is a self-titled album. This is the debut studio album from the band that everyone knows for one incredible song: Take Me to Church. A friend shared that song with me and I have now shared it with others because it is so good. The entire album consists of 13 tracks. At iTunes Canada, you would pay $9.99 for this album.
The third album is from a band I have never heard of before: Pentatonix. This is also a self-titled album with 13 songs. Can't Sleep Love is their most popular song from the album. On iTunes Canada, this album will cost you $9.99. One reviewer said:
This album should be a huge success. The first single, "Can't Sleep Love" has a somewhat R & B sound to it with impressive harmonizing and rhythm. From the snippets of other songs on the release, like "Rose Gold" it should be a great adventure in discovering what other great music Pentatonix can not only sing, compose, and produce - - but write as well.
Lastly, you can pick up Jagged Little Pill (Remastered) by Alanis Morissette. All 13 songs have been digitally remastered for superb quality. Honestly, most Canadians should recognize this artist because she is home grown - from Ottawa! This album went absolutely huge and now you can buy the version that was just remastered in 2015. For 99¢ - you are certainly getting your money's worth.
(Expiry: Unknown)