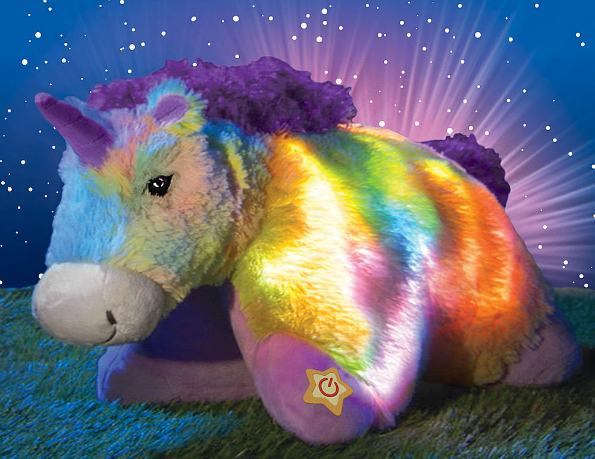 Glow Pets are 18" pillow stuffed animals that have LED lights inside them to create a glowing effect. They are perfect for bedtime, story time, sleep overs, camp outs, and any time your child needs a little light in their world. The huggable plush comes in a unicorn or a bear. Originally $32.88, each Glow Pet is now on sale for $15 each.
Each plush animal seems to light up almost magically. The bear and the unicorn glow in the dark via LED lights and there is an automatic shut-off so it is not running all night. Each Glow Pet also opens up to become an 18" pillow. If your child is afraid of the dark or if they just like things that glow, this is a sweet and affordable toy.
As the plush is battery operated, it requires three AAA batteries (not included) to run. The toy is designed for ages three and up but I could even see enjoying this plush myself! I really like soft things that glow and this would be a perfect Christmas gift!
I read up on these Glow Pets and the main concern people had was keeping them clean. The product highly advises you not to wash the plush animals due to the LED features. However, many a mother has successfully spot-cleaned their plush. However, this may not be for your child who drags everything through the mud.
This is an 'As Seen on TV' product, so your child may have seen these glowing stuffed animals advertised. I price compared them with Sears Canada where they currently retail for $34.99 each. Even with our Sears coupon that takes $10 off, these would still cost $24.99 - an extra $10 over the price at Walmart right now. As Seen on TV Canada sells them for $29.95 with 50% off additional plush but that is still not as good of a deal.
As per usual, you can get your Walmart Canada order shipped to your local Canada Post for free or have it sent to a Grab & Go locker (GTA).
(Expiry: Unknown)