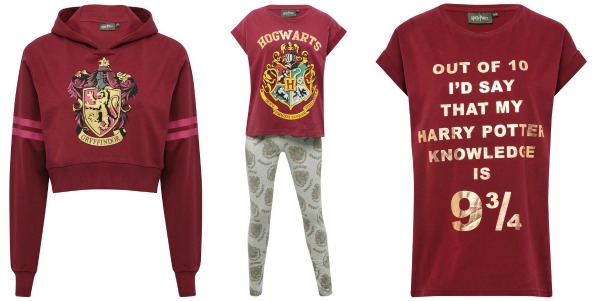 It is really hard to find geeky items like Harry Potter Pyjamas in Canada. Therefore, we found these cool Girl's Harry Potter Pyjamas for 20 GBP, which is about $40 Canadian. After coupon code PARTY25, these jammies come down to 15 GBP, which is approximately $30 Canadian. You can use the currency converter at XE.com to get an exact conversion. Receive free international shipping on your order from the UK to Canada.
Your daughter can show her true love for Harry Potter with this Christmas Pyjama set. The set includes a pair of Harry Potter leggings in a neutral colour, and a burgundy Harry Potter t-shirt. The t-shirt has all four houses represented and says 'Hogwarts' across the top. Whether you align with Gryffindor, Slytherin, Hufflepuff, or Ravenclaw, this pyjama set is perfect.
These pyjamas are designed for girls ages 9 to 13+. They are measured by height and age instead of by dress size. There are three sizes to choose from:
9(134cm) - 10(140cm)
11 (146cm) - 12 (152cm)
13(158cm) and 13+ (161cm)
If you are looking for other amazing Harry potter gear for girls, then check out these other items. The Harry Potter Gryffindor crop hoody is my personal favourite. It comes down to 12 GBP after coupon, which is approximately $24 Canadian (just double the currency as a rule of thumb). Pick up the matching Harry Potter Gryffindor leggings for just 9 GBP or $18 Canadian. The Harry Potter slogan t-shirt will only cost about $15 CAN after the coupon code. There are other Harry Potter items to check out as well.
Orders of $20 Canadian or more may be subject to customs fees when they come in. This is more common for larger packages so we always encourage Moosers to place lots of small orders if shipping is free, which it is in this case. While all prices are in GBP, it is a simple rule of thumb right now to double the price in pounds to get Canadian dollars. Even with the currency differences, the 25% off coupon and the free shipping more than make up for it. These are good prices for authentic Harry Potter pyjamas and clothing.
If placing an order, check out Anna's post on Disney clothing from $4.
(Expiry: Unknown)