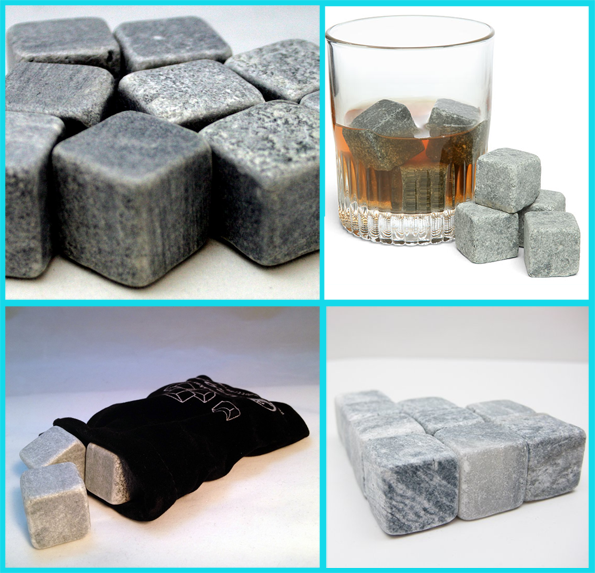 Know anyone who loves a dram of whiskey from time to time? If so, and you're on the hunt for a Christmas gift, then I'd like you to consider these whiskey stones! This set of 9 whiskey stones come in a velvet bag, and they're a great offer on Amazon. You can get this item for only $9.99 just now!
Please note – I am referring to the deal from Amazon themselves here. It's shipped and sold by Amazon and not a third party seller. When you click the above link, there are also a number of Asian sellers offering this item, but the Amazon deal is the one you want to go for, for fast shipping from within Canada. And if you have Prime, shipping will be free, of course. Otherwise, spend $25 or more for free super saver shipping. :)
In terms of pricing elsewhere, Amazon is very competitive here. A very similar set is selling for $25 on Chapters and $30 on Best Buy! There IS a set for only $8 on FactoryDirect, but shipping is $7 on top of that, so it makes no sense anyway. :)
I was googling about these products and I found a review on Scotchblog.ca, which goes into detail about the pros and cons of this type of thing. They actually have carried out quite a thorough quantitative and qualitative analysis on the whiskey stones, which is very detailed! They did finish with an opinion that whiskey stones provide little benefit to the enjoyment of whiskey… but it really depends how someone actually enjoys whiskey. They also taught me a new word – organoleptic. This refers to the aspects of food or other substances that you experiences via the senses! Nice word, dudes.
Reviews on Amazon are slightly mixed, with some people loving these items and some people saying that they don't chill the drink very much. But again, this depends really on how you like your whiskey. :)
Have you ever used whiskey stones? What do you think of them? Would they make a good gift?
(Expires: unknown)