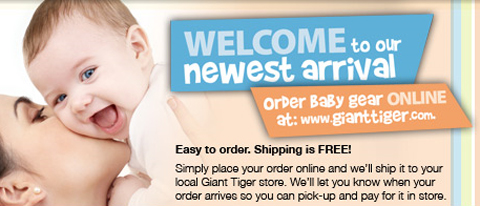 In case you weren't aware of this fact, I'll pop up a little blog post. Giant Tiger Canada have an online baby boutique where you can order all sorts of baby products which they normally sell.
I'll not go into details of any specific products, because they probably change every so often. But I will say that Giant Tiger Canada sell all sorts of baby products online, from strollers to booster seats.
And guess what - shipping is FREE to collect the items from your local Giant Tiger store.
I think this is Giant Tiger's first foray into online ordering. Hopefully it will be successful for them, and they will expand it to include everything they sell, not just the baby products.