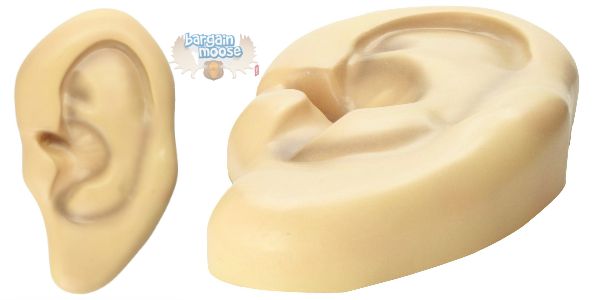 Amazon has dropped the price today for the Accoutrements Giant Ear. This humongous and laughable model was $12.31 but is now available for only $6.08. This item does qualify for super saver shipping with an order of $25, or those of you who still have the Amazon Prime free trial can ship it completely free!
I am dying of laughter today over this giant ear. This hilarious prop has so many uses that you might just find yourself clicking "add to cart." Let me start by mentioning this product is truly unique and the possibilities for jokes are truly endless. Once you have a prop like this giant ear, you will find you pull it out all the time for a laugh.
There are a few details you need to know about this giant ear. As the title suggests, this ear is gigantic, clocking in at 50.8 x 30.5cm or for those of you who think in inches 20" x 12". In case you cannot picture just how big this ear might be, I found a model with this ear at the official Accoutrements online shop, which only sells products wholesale. Check out the size of this ear.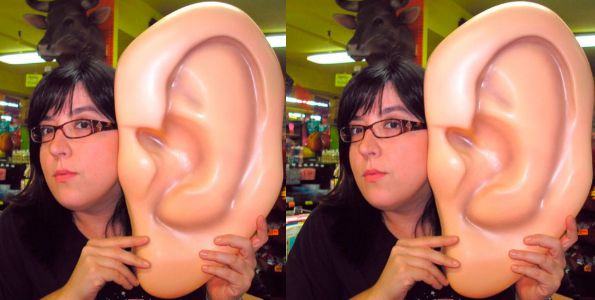 You can only purchase a left ear version of this giant model so keep that in mind as you are thinking about your purchase. Here are some great ideas we came up with for this giant ear.
Pranks
Halloween costumes
Table décor for Halloween
Props for theatre groups
Unique wall decor
The next time someone asks you to lend them your ears, you have an extra
Stress release! As one Amazon reviewer suggested, talking to this ear is much cheaper than seeing a psychiatrist
Though not officially a platter meant for food, I bet you could fit a small bowl of guacamole in the ear canal.
I tried to price match this product. This product is not available anywhere else in Canada currently. I did find this product available on Amazon.com through a secondary seller on sale for $7.55 USD. After you add shipping costs to Canada, the price becomes $12.53 USD. Over at Halloween Express I found a pair of giant ears that you wear, but are significantly smaller for $15.39 USD and will cost you $17 to $20 depending on your region for shipping through a third party company.
This is a hilarious product that you really cannot easily get a hold of anywhere else. Skip shipping this over the border, and order this giant ear from Amazon.ca. You will be the hit of the next Halloween party!
(Expiry: Unknown)