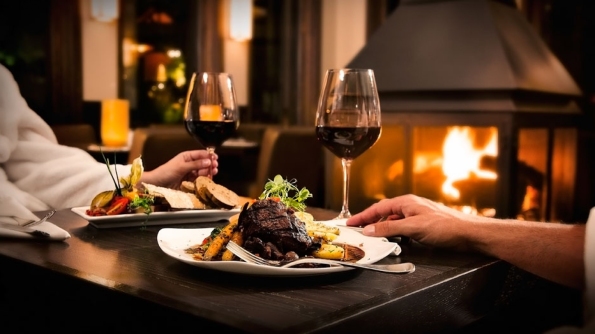 What do you get for that hard to buy for person on your Christmas list? How about a gift card that is valid at about 9 different restaurants? The benefits are thick with this offer too. For a limited time you can buy The Ultimate Dining Card for $50 and you will get The Ultimate Value Pack for free which is worth over $165 in savings. So you get a $50 gift for them and a $165 savings booklet for you. Win-win?
Your first step? You need to head in-restaurant and buy a $50 gift card. Haven't any idea which restaurants are included? Here is a list of restaurants that you can buy the gift card at, and you can also use the gift card at:
Swiss Chalet
East Side Mario's
Milestones Grill & Bar
Casey's Grill & Bar
Montana's Cookhouse & Bar
Bier Markt
Kelsey's
Prime Pubs
Harvey's
Once you've arrived at one of these restaurants, you can ask for the The Ultimate Dining Card in a $50 value. Also mention that you would like to receive The Ultimate Value Pack as well, which has over $165 in savings that can be used at these fine establishments.
This offer is valid through December 24th, 2015 and can be redeemed in-restaurant only. The $50 Ultimate Dining Card will also come with a limited time Holiday Sleeve to make it an even more appealing Christmas gift for this Holiday season.
Here's a list of the coupons included in the booklet. Of course some people will find the coupons more useful than others, so take the discounts into consideration before snagging this offer at your local participating restaurant.
The coupons include:
Harvey's
The Harvey's coupons expire on February 28th. They include 2 Can Dine for $10.49.
Montana's
The Montana's coupon is valid from January 1st through February 29th and includes a coupon to save $15 when you spend $45 on Smoking Good BBQ.
Kelsey's
The Kelsey's coupon expires on February 29th and is for $10 off $30.
Bier Markt
The Bier Markt coupon is valid from January 1st through February 29th, and you will receive 1 free Bier Markt glass stein when you spend $50.
East Side Mario's
The East Side Mario's coupon is valid for $15 off orders over $45. It is valid from January 11th through January 31st.
Swiss Chalet
Swiss Chalet has a few coupons, and they are valid until February 21st. There is a 2 can dine for $19.99, deluxe delivery for 2 for $24.99 as well.
Milestones
There are three coupons available to use at Milestones Canada. There is a free appetizer with the purchase of an entree purchase which is valid between January 2nd and 31st. There is also a coupon for BOGO 50% off any entree from February 1st through the 13th and then again February 15th through the 28th. This particular offer is valid Sunday - Wednesday only. The last coupon is for a free Spinach Dip between March 1st and March 31st.
and more!
The booklet also promotes that you can dine at any of these restaurants and earn 20x the Scene points between January 2nd and February 29th 2016. Plus you can get a bonus $10 Ultimate Dining Card when you register your email and get the UGO Wallet app and store a loyalty or gift card (like your Ultimate Dining Card for example). You will then receive another $10 Ultimate Dining Card in your UGO wallet.
If you are a scene point collector,  you can redeem 5000 Scene Points to get a The Ultimate Dining Card valued at $50, but I don't think it will come with The Ultimate Value Pack in that circumstance. But it is still a fab deal considering you earn those points by spending money and then would get a $50 gift card with those points. Essentially, a free gift card to use at over 9 different restaurants? Count me in. You can either keep the card for yourself or give it away as a Christmas gift.
(24th December 2015)