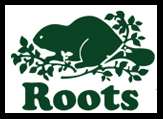 As I mentioned previously, I'll be doing a series of posts tell you the best stores to sign up to for email subscriptions, to get extra discounts and coupon codes. These are all tagged with "email discounts."
This post is about the Roots Canadian clothing store. I'm on their email list and I quite regularly get very good offers by email. Now, not every single offer is amazing, but quite a few are definitely worth mentioning. Some notable deals in the past were the 25% Roots coupon code offer, or the $30 off $100 sale.
Sometimes Roots clothing send word of their online promo codes, and sometimes they just email to let you know about interesting in store offers. If you'd like to get on their e-mailing list, just fill in their registration form. And if you make any online purchases, don't forget to use Dealguild.com for 3.25% cashback!