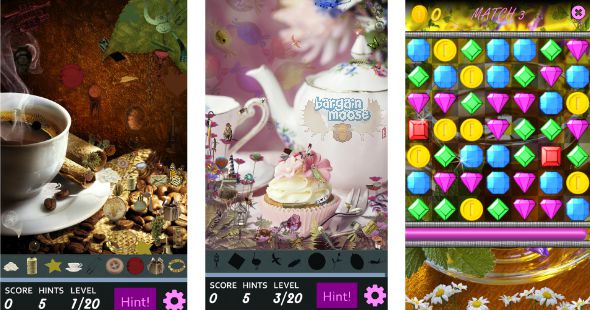 Amazon Canada is full of surprises and freebies if you keep your eyes open, which is why I wrote about 8 Tricks for Finding Free Stuff on Amazon.ca. Amazon Canada has released another freebie for you to download through the Amazon Appstore, so be sure to give that a download and then you can download Hidden Object - Tea Time for totally free. This game app was previously priced at $2.42 and there is no saying how long it will be free for.
This game is similar to the other seek & find games - except right now Hidden Object - Tea Time is free if you download it through Amazon.ca with your Android device. There are 20 different scenes and lots of different game modes. I am personally an iPhone owner so unfortunately I can't reap the benefits of this offer, but I hope you will. If you enjoy amusing mini-games and great graphics, then the seek & find game called Hidden Object Tea Time will be your cup of tea.
There are various ways of finding the desired items within the Hidden Object - Tea Time game. You can find the object by picture, silhouette, word or random. There are also four different levels of play: normal, casual, challenge and practice. If tea is not your thing, there are two other seek & find games for free right now too. Here are the other two games you can download for free through Amazon Canada:
There are some poor reviews and there are also some great reviews for this Hidden Object Tea Time game. In my opinion, it is free so it is worth a shot. Sometimes it would be great to have something like this to kill some time. Maybe while you are waiting at the dentist office, or perhaps your little kiddos will enjoy the game too. You can always delete the game if you don't like it. Don't delete the Amazon Canada Appstore though, or all of your Amazon Canada games will leave with it.
(Expiry: Unknown)