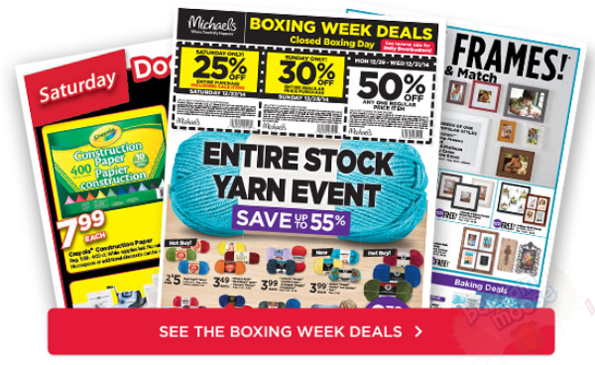 Michael's Canada is keeping the sales coming with some great coupons you can use in-store. Right now, you can print a coupon that gives you 30% off your entire regular priced purchase for Saturday only in store. If you miss the coupon today there are still a few other great coupons to grab for the next few days.
Have you ever made any kind of crafts that require more than one-step? Perhaps you have also found yourself back in the store multiple times in the same week.  You get your pile of loot home to start your beading/crocheting/floral arrangement/scrapbooking/kids craft and dive in. Halfway through you realize you need one more item and usually the best place to pick up that item is the craft store. Michael's is helping you out with these extended coupons so you can receive 30% off all of your items on Saturday but still receive 50% off one item on Sunday to Wednesday for that one item you forgot.
Saturday is really the time to shop because you can add the discount on to the great sale prices already available. If you like to knits or crochet, Michael's is having an up to 55% off all stock yarn sale. I used to crochet hats and baby blankets for friends and have an entire box of just yarn in the basement to prove it. Once you add up 3 to 4 skeins of yarn for the project and an accent colour or two your total can really add up. Plump up your stash and pick out some of the great soft fibres Michael's has.
Check out the 70% off all holiday items, some of these items will be on deep discount once you stack the coupon on top. In the holiday section online they are displaying a large variety of craft kits and toys alongside the traditional holiday décor. These craft kits do not all have a holiday theme and make great birthday gifts or gifts for other holidays. You can also pick up some cute holiday décor, keepsake ornaments or holiday craft supplies for next year. The online selection you can view is limited so make sure to check out all over your local store for all of the options.
The holiday has pretty much exploded across my living room. I was thinking about heading over to Michaels myself because they are offering 50% off decorative storage, photo boxes and craft storage. Michael's thinks they are being slick offering a discount on boxes for Boxing Day. Looking across at all the new toys and fun that I have no idea where to put, I may go there to pick up some storage solutions.
Michaels is also offering different doorbusters every day through Wednesday so you may want to check out the flyer in our Michael's Boxing Day forum or our coupon dashboard.  There are also other great Boxing Day deals still to be grabbed in our forums.
(Expiry 31st December 2014)