At your local Garage clothing store, they've got a funky offer running, a free gift with purchase. If you spend $65 or more on Garage clothes, they will award you with a free set of speakers!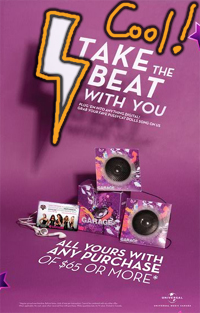 The small print on the Garage landing page is actually so small that I cannot read it. Apparently, it was written by a small family of ants with white paint on their feet.
I quite like Garage clothing. I find their color selection is great – so many bright, vibrant hues, especially in their basic tanks and camis. I noticed in their online store that they also sell bikinis – I don't think I've noticed them in-store before! Or maybe I just haven't been paying attention. Their "stripe bikini" top and bottom (for $18 and $16 respectively) looks gorgeous – great for upcoming hols!
Check out their rainboots too – plaid rainboots! You wouldn't catch me dead in those!
UPDATE 24th March 2009 - I've also found a free coupon for a $10 discount on a $50 spend, between March 23rd and April 5th 2009. Click here to print out your free Garage discount coupon. You might prefer to use that one. :)