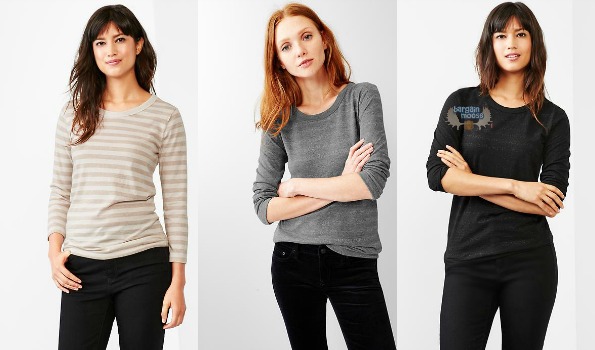 Looking to stock up on some cute tees? Gap Canada has a great deal on metallic stripe crew tees. Regularly $29.95, they are on sale for $8.99. Once you also add the promo codeGAPHAPPY, you'll get another 40% off, bringing your total down to $5.39.
This top is great with both jeans and leggings, with a loose fit and a simple design. This is a great lounging top, although I could definitely see it getting dressed up with some jewellery or a scarf. The Heather Gray is the one that is cheapest. If you want other colours like oatmeal stripe, true black or blue, they come down to $6.59 after discount.
The reviews are great on this top:
This is a really cute shirt, but it does run small because it is a slim fit cut. I recommend ordering one size up to get a regular Gap fit. I like the shirt so much I am keeping the smaller one in my usual size and plan to order a second larger one. It's also a bit translucent along the metallic stripes, manageable in the black, but you might need a cami under the lighter colored ones. Also keep that in mind for sizing.
Because shipping is free on orders over $50, you'll either want to get 10 tops (which is probably not feasible), or you'll want to search around for other items that you can pair with the GAPHAPPY coupon. Paying $8 in shipping for a $5 top just doesn't make sense to me. You can also shop Banana Republic or Old Navy and combine your cart to get up to your minimum of $50.
Personally, I'd rather shop around and I found an amazing deal on this Gap fur-trim down puffer. Regularly $158, after coupon code you'll get this coat for only $44.99! That's a pretty amazing price for a Gap winter coat. Reading the reviews, I was getting nervous that this coat wouldn't be warm enough for a Canadian winter as all the reviewers that said it was super warm were from places like L.A. or New Orleans. But then this Saskatoon resident chimed in and I felt better about it!
I really like this coat. The furry hood is super cute and warm. When I put it on, I noticed right away that it's puffier around the middle than it appears on the model, so it's not as slim fitting as some puffer jackets are, but I don't feel like a balloon animal in it either.
(Expiry: 29th January 2015)