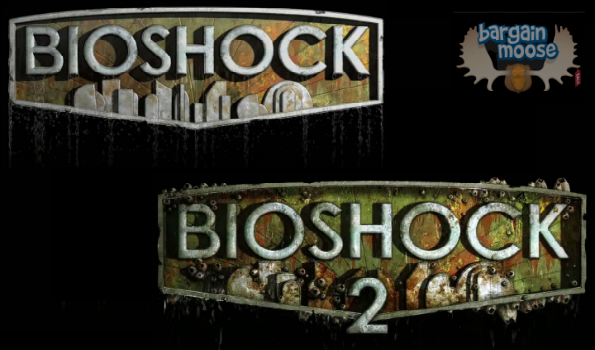 BioShock Infinite is blowing up the world right now but where did it all start? Find out by getting both of it's predecessors for super cheap at Game Fly!
I've been hearing nothing but BioShock Infinite since it came out. Everyone is talking about it and how it has very much helped elevate the concept of video games as an art form. The story, apparently, is told so well that people want to move forward in the game just to figure out what is going to happen next in the story. Now that being said, there is still tons of action and shooting people, which is always fun.
But where did it all start? Where did this awesome game come from? Why, BioShock and BioShock 2, of course. Everyone loved these games too and, if you're like me, you can't play a sequel without playing the originals. That's why I haven't played Assassin's Creed 3 yet; I'm still working on Assassin's Creed: Revelations. Anywho, that's not what matters. This is an amazing deal. These games normally retail for $19.99 each as they have been out for a bit now but right now you can get both of them for $4.99. No. No, no, you don't understand. Not $4.99 each, I'm saying $4.99 for both of them.
That's right, your argument is now invalid. Go, buy, love. Pants.
Not enough awesome for you? Check out some of the other 2k Games Bundles for up to 90% off! Still not enough? How about our GameFly Coupon Code section?
(Expires: 4th April 2013)