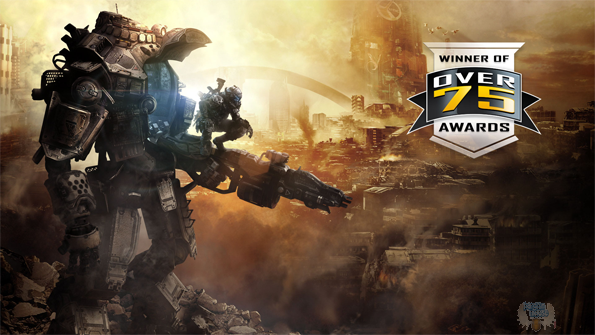 Good morning, my fellow deal hunters! Today's deal at Game Access will certainly get some love from Xbox One owners - it's for a used copy of Titanfall! Normally retailing for $49.99, you can now get this game for just $19.72 (plus $3 shipping). This game was released with plenty of hype earlier this year, and gets rave reviews from both critics and gamers. It even has a total score of 86 on Metacritic, which is no easy task!
This innovative shooter for the Xbox One system is a popular one. Originally released in March, it came about with a great amount of hype - and it lived up to it all! I've even seen some people wearing Titanfall t-shirts in public - the only other video game related apparel I usually see people wear are Nintendo brands (Mario and Zelda, mostly), so this just shows how beloved Titanfall is.
I've yet to try out this game, but I hope to do so sometime soon! Reviewers are saying some great things about Titanfall for the Xbox One, and I hope to try it out in the near future.
This game currently costs $49.99 at Best Buy and Future Shop. I've included a snippet of a review for the Xbox One version of Titanfall from X One Magazine below:
Titanfall is a ridiculous amount of fun. Maybe it'll be surpassed, but right now it's the best game on Xbox One and one of the best multiplayer shooters ever.
Vandal Online also had some great things to say about this highly praised Xbox One game:
We feel like this is next-gen gameplay. Titanfall proves that there's still room for innovation in shooting games, and we've had a blast playing it. It could have had next-gen visuals, though, and then it would have been the bomb.
Due to the popularity of this game, it may not be in stock for very long, so take advantage of this deal while it's still available! I hope you all enjoy your day today, my fellow Bargainmoosers!
(Expiry: 16th October 2014)