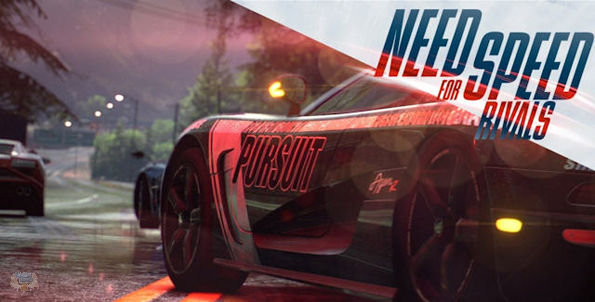 Game Access is providing gamers with another great deal! Today's daily deal is for a used copy of Need For Speed Rivals for the Sony Playstation 4 system, which you can now get for $19.72 (plus $3 shipping). The regular price of this popular racing game is $49.99, so you're saving $30.27 with this deal!
If you're looking for high speed chases and racing thrills, then this is the right game for you. The Need For Speed series has been loved by video game fans since it first appeared on PCs back in 1995. Technically, it was on an obscure video game system known as the Panasonic 3DO at first in 1994 (Electronic Arts, the company behind this popular series, were one of the biggest supporters of this failed system). I actually had a 3D0 system back when I was 12 (it was only $50 at Microplay... plus, I wasn't allowed to get a Playstation or N64 at the time).
I previously wrote about the PS3 version of this game, but this PS4 version of Need For Speed Rivals provides players with a truly breathtaking experience, thanks to the next-gen visuals in the game. The graphics are simply gorgeous! Even though the PS4 has barely scratched the surface in terms of its graphics capabilities, Need For Speed Rivals really shines on this console.
If you wanted to purchase Need For Speed Rivals for the PS4 at Best Buy, it would cost you $49.99, while a used copy at Future Shop is $39.99. I've included a snippet of a review of this game from a satisfied Game Access customer below:
This game is beautiful. The opening cinematics, the beads of water on your car, the environment, it's a pleasure to look at and does a good job of showing off some of the PS4's power, considering it's a release game.
This deal will expire tomorrow. Happy gaming, Bargainmoosers!
(Expiry: 8th October 2014)