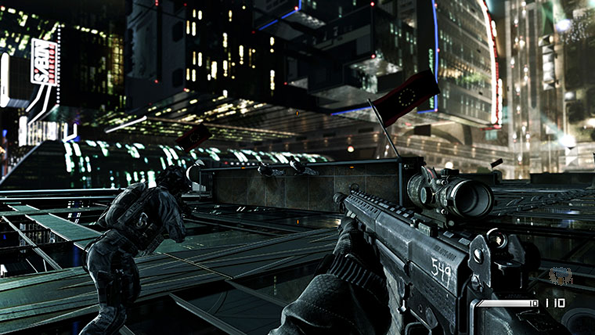 PS4 owners should check out Game Access' deal of the day today - it's for a used copy of Call Of Duty: Ghosts. Normally $59.99, you can now get this PS4 game for just $19.72 (plus $3 shipping). If you just got a Sony PS4 system and want to pick up an affordable game that's fun to play and has an addicting online multiplayer mode, then you should definitely check out this deal!
The PS4 version of Call Of Duty: Ghosts has some incredible graphics, and is exactly what you'd expect from the Call Of Duty series: Easy-to-control gameplay, an intense online multiplayer mode, and an abundance of fun.
When I see games like Call Of Duty, it harkens me back to the days when I played the early first-person-shooter games like Wolfenstein 3D, Doom, Quake, and Duke Nukem 3D. Oh Duke Nukem - the 12-year-old me loved your profane yet hilarious one-liners and references to They Live (starring Roddy Piper - yeah, that Roddy Piper).
The first-person-shooter genre was so revolutionary for its time. I remember getting a Sega 32X (an attachment for the Sega Genesis that allowed you to play a small selection of powerful-for-its-time 32-bit games) just so I can play Doom on a home console. Nowadays, these FPS games are much more advanced, and have plenty of extra features (and they look A LOT better), but they still retain that simplistic yet fun gameplay where you "kill or be killed".
Call Of Duty: Ghosts for the PS4 currently costs $49.99 at Best Buy and Future Shop. I've included a brief review of this game from a satisfied Best Buy customer below:
I love this game! Fantastic graphics, smooth controls, a pretty good storyline, and lots of play variety: stealth, action, in the jungle, in the city, in buildings, rappelling down a building, on water, in water, underwater, on ice, in space, in a tank, in a helicopter, lots of weapons and lots more! Highly recommended.
This deal expires tomorrow, so check it out now! Happy gaming, Bargainmoosers!
(Expiry: 13th October 2014)