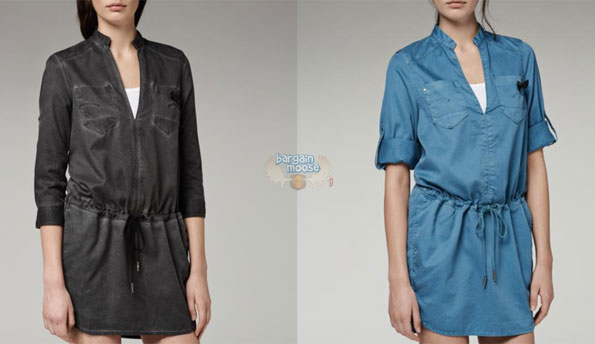 G-Star Raw is at it again, but this time with up to 50% off sale items for both women and men! In fact, I spotted this lovely Radar shirt dress on sale for just $115, down from $230.
Ever since purging my closet of clothes that I haven't worn in nearly a decade or will never fit into again, I have been on a re-stocking quest, especially for unique-looking pieces that could stand the test of time. There's nothing I hate more than having to throw away clothes after just one season of wearing them and that's exactly why I love G-Star Raw. The only hitch with this store is that prices can be slightly high but this is what makes promotions such as these so awesome.
As I've mentioned before, prices may be high at G-Star Raw but so is the quality of the items and you can definitely expect clothes to last more than just a couple of months. The Raw shirt dress, pictured above, is made entirely from cotton and features a drawstring elastic at the waist. The black version is available in all sizes except for large, whereas the water coloured (blue) one is only available in small, medium or large. Personaly, I much prefer the blue one as it makes the little black bow on the chest pocket stand out. Plus, I'm definitely guilty of primarily buying black and grey pieces of clothing, so this shirt dress in blue would help to add some versatility. The material is also that of lightweight denim that has been woven with a left hand twill for increased softness.
If you would prefer a non-denim variation of this dress, then check out the Lynn dress on sale for $92 (reg. $184). Although it might look similar, it's actually a straight cotton dress (instead of a denim one) and doesn't have the little bow on the front.
There's plenty more to choose from though, such as the Dexter super slim jeans for men. They were originally priced at $161 but are now 30% off at $112.70. Although they may appear to be somewhat rigid, they are actually described as being comfortable and even have 92% cotton. There are also logo t-shirts from $25.88 (reg. $51.75) and if you're looking for one with a unique design, then the 2006 t-shirt definitely fits the bill. It's also available in a slim design for women at the same price.
Be sure to reach the $200 minimum for free shipping, otherwise a $15 shipping charge will apply.
(Expiry: Unknown)