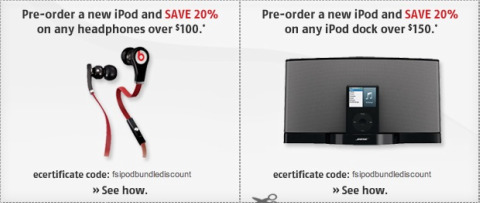 I am so excited about this post! I wasn't sure I would get to post about the new Apple products but Future Shop's new promotion is being a dear and letting me!
First off let me clear a few things up: I am a geek, I am an Apple loving geek, I own a macbook, an iPod touch and I want an iPad and Apple TV. I watch Apple's shares on the stock market every day and I watched the press release of the new Apple products.
Geeki-ness established.
So! Without further ado: The new lineup of iPods has been released and they are a new iPod shuffle with buttons, iPod Nano with iOS technology and a new iPod Touch with camera. These products will be available on September 9th approximatly. With your pre-order at Future Shop you will qualify for 20% off the following:
Any headsets over $100
Any iPod docks over $150
So to pre-order:
How do you get your 20% discount on accessories you ask? Here are the simple instructions:
Pre-order any new iPod.
Add the eligible accessories to your cart.
Enter the following coupon code during your check out: fsipodbundlediscount
Discount will be reflected on your order.
This means you could get Dr. Dre Beats for 20% off. I have dreamed of having a Dr. Dre headset for AGES. Sure, I have really nice sound quality through my ordered in from the USA Shure headset, but Dr. Dre! You could also get a really nice quality iPod dock for a really nice discount.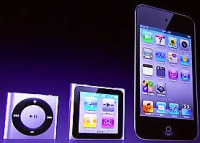 The new iPods look seriously awesome. I watched the release. The new nano has iOS technology, so it has become like a mini touch... it is a touch screen now for goodness sakes! They made the right move with the shuffle keeping both voice over and putting back the buttons. I think a buttonless shuffle was a big mistake. Making the touch slimmer, and adding that video chat + a camera has just elevated it to a whole new level! Weeeeeeeeeeee! :-D
Fine Print:
*Limited time offer. Excludes Bose QuietComfort headphones. Cannot be combined with other promotions. Available online only.