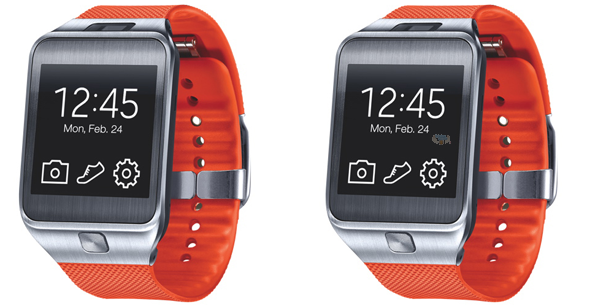 Good morning, Bargainmoosers! Today's deal at Future Shop will only be valid until 10 AM ET, so it won't be available for very long! I am currently typing this as quickly as I can so you can all have more time to save some good money on this deal. The product that's on sale right now is the Samsung Gear 2 Smart Watch (Orange), which is now selling for $199.99 - the regular price of this smart watch is $329.99, so you're saving $130 on the retail price! You'll also qualify for free shipping with your order!
With this Samsung Gear 2 Smart Watch, you can conveniently answer and make calls, take pictures, receive notifications, and so much more. Not only does it look sleek, sophisticated, and sweet, but it can also . It's compatible with a wide array of Samsung Galaxy smartphones and tablets, and when you use some third-party apps, you can increase the compatibility of this Gear 2 Smart Watch and make it work with some other phones and devices. You can learn more about this Samsung Gear 2 Smart Watch by clicking here.
Smart watches are becoming very popular. Even Apple is releasing their own smart watch in 2015, known as the iWatch, and that will definitely turn some heads. I've seen these Samsung Gear 2 Smart Watches on display at WalMart and Best Buy locations recently, and they look very nice. Plus, with all the apps that you can get for it, it will always be something that you could rely on for many years. Best of all, it's rechargeable so you don't have to worry about replacing its battery like regular watches!
If you were to buy this Samsung Gear 2 Smart Watch at Best Buy, it would cost you $329.99. Listed below is a snippet of a review of this Samsung Gear 2 Smart Watch from a satisfied Future Shop customer:
I have a Samsung Smart TV so I use the remote control on the watch for the T.V. I also use the watch to control my music, this way I leave the phone docked and I can use the watch to adjust the music. The water resistant feature is nice to have so you don't have to worry about getting it wet or submersing it for short periods of time. Really nice tech toy, I recommend it.
Get it now before it's gone! Happy hunting, Bargainmoosers!
(Expiry: 26th October 2014)