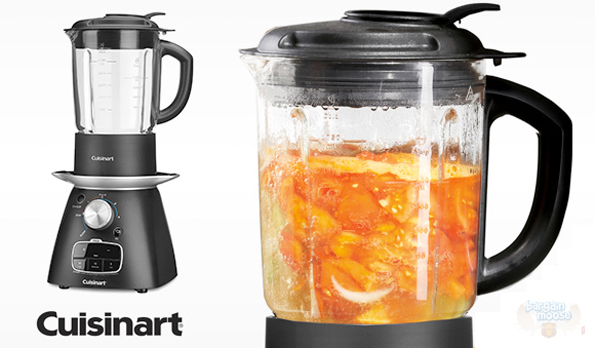 Future Shop Canada has a really good deal on this Cuisinart Blend & Cook 1.7L Blender. Originally $148.99 the wicked little blender is now only $79.99 with free shipping because you are spending over $20.
We have totally mentioned this little blender once before: when it was on sale for $129.99 and came with two free movie tickets from Shop.ca. That was way back in January and though the blender has come down in overall price a bit, we have not seen a deal on it as good as this one from Future Shop.
What makes this blender so special? I really can't say it better than the company itself so this is why this blender is wicked:
This multifunctional machine sautés, cooks and blends homemade soups and sauces right in the jar. Simply add pre-cut ingredients and the machine sautés, blends and keeps the soup warm until serving. Three temperature settings (low, medium & high) and four blending speeds, plus a stir function, lets you blend ingredients to the perfect consistency. It's also a high-performance blender, perfect for crushing ice and whipping up cocktails or smoothies.
Forget microwave dinners: make dinner in your blender!
(Expiry: 7th November 2013)