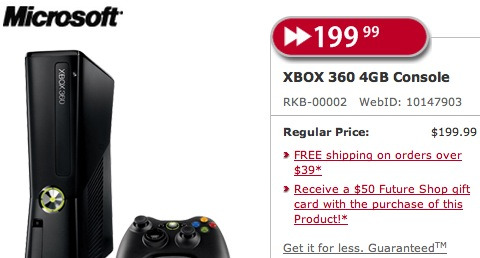 This is a really sweet offer from Future Shop. If you are in the market for a new gaming system and the Xbox 360 is on your list of maybes, consider Future Shop's offer. If you buy an Xbox 360 4GB Console from them: they will not only ship it to you for free - they will give you a free $50 Future Shop gift card with it.
I did a price comparison and the Xbox on Future Shop's website is the same price as at Best Buy, so they didn't jack the price to offer you the Gift Card.
With your gift card, feel free to get a new game, or a couple used games... or maybe another controller. Or something totally different. Either way, a free $50 gift card to Future Shop is a really sweet deal. I could buy a ton of things there!
P.S. I continually get errors on Future Shop's website so I am unable to add anything to my 'cart' to test. I don't know if it is because I am on a Mac or what.. but I have never been able to buy anything online at Future Shop, even my iHome deal I had to go in store. If you have issues, I suggest you call their customer support, but just to let you know I too have had major issues with their website.