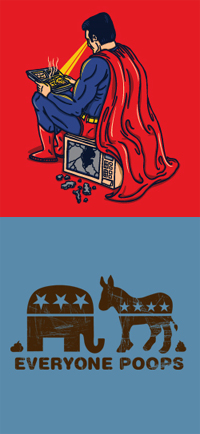 I am the world's biggest Threadless fan. I'm actually wearing one right now, A Birth Day, except mine tee is green. And I'm pleased to hear that they have another $5 sale on right now!
Threadless tend to sell out of the $5 tee shirts quite fast, so I really recommend using the stock chart to find designs. You can select exactly your size, and it shows you exactly which ones are in stock. This really makes it much easier to browse through, and find tees that you like.
I'm trying to convince myself not to order any more. I have about 30 threadless tee-shirts in my wardrobe anyway, I really cannot justify purchasing any more! If I was to make an order today, I would order: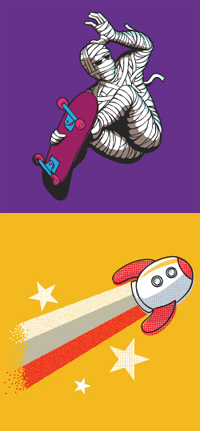 I like wearing Threadless t-shirts and getting recognised though. Some people know the brand quite well and can recognise it anywhere. I was at a conference in London last year, and I was wearing Rock Out With Your Cock Out. A random guy told me that he owned it too, but it looked better on me! Maybe he was just trying to get me out of it… but that's another story. :p At the same conference, I was grabbing one of the free tees that they always give out, and they guy there said to me, "Where did you get your tee?" And I said, "I just picked it up off this table here right in front of us." He actually meant the "We're Toast" tee that I was wearing. :)
Regarding shipping costs to Canada from Threadless, it's kind of expensive if you only buy one t-shirt (they ship from the US). But it you buy a few, the costs do not go up much more, so you can split the shipping cost over a greater number of tees. During these $5 sales their shipping can be a tad on the slow side, so don't expect your order to arrive within days, I'd say it would be more like a matter of weeks.
Expires Monday March 23rd 2009! But stocks may sell out fast, so order asap. UPDATE - Extended to March 30th 2009!