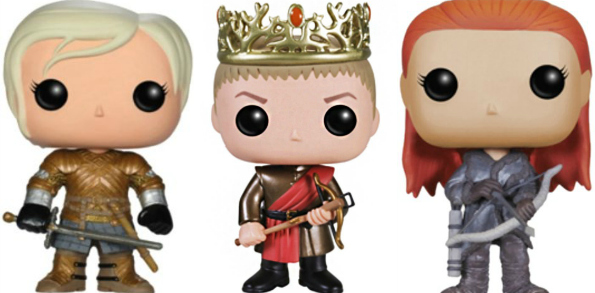 Game of Thrones is so HOT right now, that I could burn my tongue just mentioning it. ;) While checking out Amazon Canada, I found a selection of authentic Funko Pop Game of Thrones figures on sale. Originally $15.89 each, they are now on sale for $8.99 each. Choose from Joffrey Baratheon, Ygritte, and Brienne of Tarth.
All three of these figures are from the nine figures in the 3rd Series of Game of Thrones POP. They stand 3.75" tall, thus they are full size POP figures instead of the minis (that come in under 2"). While the entire nine figures are not on sale, these three will give you a good start on your Game of Thrones Funko Pop figure collection while you wait for the others to go on sale.
I couldn't find these exact figures many places in Canada. Standard Funko POP figures retail for $12.99 at places like Chapters and Toys R Us, but these figures are not for sale there. When I did a quick google search, the absolute cheapest I found in the USA was $9.99 USD = $12.92 but I generally found them for $14 - $18 USD. Essentially, you will not find these awesome Funk POP Game of Thrones figures cheaper anywhere else.
These are all sold by Fugitive_Toys and fulfilled by Amazon Canada so you can receive free shipping on your order if you are a Prime member or receive free shipping on orders of $25. Funny enough, all three of these FunKo POP figures together equal $26.97, which is just enough to receive free shipping!
I also TOTALLY have to mention the Game of Thrones: Samwell Tarly Training Grounds figure. While he is also on sale - fulfilled by Amazon - for $10.53, you can buy him from a marketplace seller for just $8.53 and free shipping. Pick him up too!
If you do want a few other Game of Thrones figures, here are a few honourable mentions from the next price tier up:
Hey Moosers, who is your favourite or least favourite Game of Thrones character?
(Expiry: Unknown)