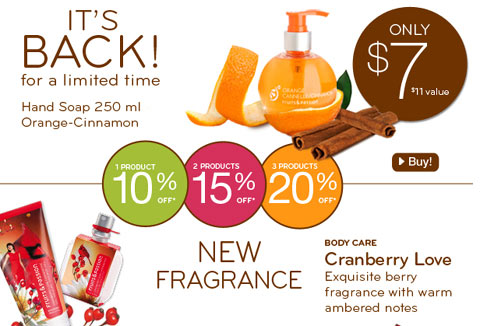 Right now at Fruits and Passion Canada, they are running a promo for purchasing multiple products, in the seasonal fragrances or the Cranberry Love range. Here are the details:
Click here to shop online @ Fruits and Passion Canada
Buy 1 product get 10% off
Buy 2 products get 15% off
Buy 3 products get 20% off
For example, I added three gorgeous orange-cinnamon hand soaps to my cart. They are normally $7 each, or $21 for 3. With this promo, the cost was reduced down to $16.80 in my cart, making them $5.60 each.
When I was browsing through the Fruits and Passion website, the language kept annoying changing from English to French, and I kept having to switch it back. If you can cope with this minor irritation, then you should be able to find some bargains!
Remember - you can also choose 3 free samples with your order, from lovely items such as Thé vert Body Souffle, PINK Eau de toilette or Mango Evasion.