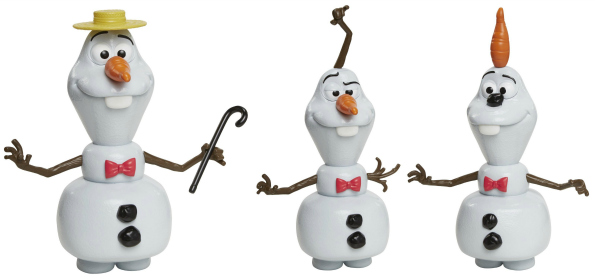 We love Frozen toys because kids still love Frozen. I am sure your kids already have as many Elsa and Anna dolls as they can handle, but what about Olaf? Toys R Us Canada's eBay outlet has Frozen Olaf Switch'em Up on sale from $19.99 down to $11.97. This toy also receives free shipping, which makes this deal a whole lot better.
This toy is all sorts of cool - not just because you get a snowman. Olaf comes with 15 accessories taken from the "In Summer" scene with Olaf in Disney's Frozen. Accessories include sunglasses, a carrot nose, straw hat, iced tea, hot chocolate, and more.
You can mix and match accessories and even rearrange Olaf's nose. Do you want the carrot on top of his head or on his face? Even better, all of these accessories store inside of Olaf for easy clean up. With all of the accessories inside Olaf, you will always know where they are and reduce the chances of losing an accessory or three.
I really like toys that come with a whole bunch of accessories. The more accessories, the more fun it is to play with the toy. I like how you can play dress-up with Olaf and convert him from a summer snowman into a winter snowman. You can even do silly things like put a stick on top of his head. I like the carrot head look myself, and he doesn't even have red hair.
This price is wicked awesome! The same toy costs $22.94 @ Walmart Canada and $24.54 @ Amazon Canada. Yes, you are paying approximately double if you buy this toy from the other major online toy retailers. While this toy is $11.97 @ Toys R Us Canada's main website right now, there is that $49 minimum for free shipping. You really want to pick it up from their eBay Canada outlet store for the best deal.
Quantities are limited. Pick this up as a Christmas gift for your little Frozen fan.
(Expiry: Unknown)