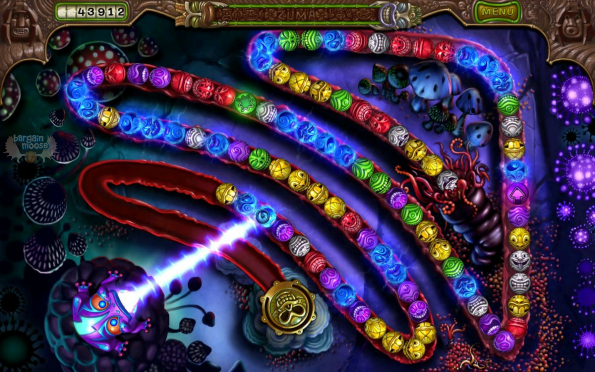 Origin.com is back with their free movie of the month. This month, enjoy a free copy of Zuma's Revenge. That is free to download - not just to play - as you now own it.
This game is compatible with both Mac and PC computers. I know some of the previous games have been a bit old (mid-90s) but this game is just from 2009. It is also made by the legendary PopCap Games studio that has made other fantastic titles such as Bejeweled and Plants vs. Zombies.
This game is a sequel to the original Zuma. You play the role of a fearless frog firing stone spheres to destroy a deadly stream of balls *gasp*! There are over 60 levels with hidden traps and challenges you must conquer. According to the game description:
Slide and hop for smarter shots; hit targets for exotic bonuses; detonate new power-up balls; battle six imposing tiki bosses and guide your agile amphibian to victory in four all new game modes!
You are going to love the number of levels in this game and the six mini-games where you need to beat bosses! There are sweet power ups and different game play options like lily-pad hopping and slide aiming. In the 60 levels, you will enjoy 70 new challenges in different places like the Jungle if Mystery, Lost City, Mosquito Coast (yummy), and more. If you beat 10 levels in a row, you will have run the Iron Frog gauntlet!
Once you have defeated all 60 levels and are convinced this game is too easy, go back and play the game in Heroic Frog mode for a bigger challenge.
While I did not find this game many other places, Big Fish Games does sell the full version for $10.21 CAN. The game looks like a lot of fun and a great way to relax (and waste time). One reviewer on Big Fish Games said:
Ah, my first marble popper game! Received this one as a Christmas gift, and found I stayed up all night playing it. Addicting, rewarding, frustrating. So in a world: GREAT! What a beautiful game, plus I think my reflexes and hand to brain coordination has improved!
I just love freebies that are fun and rewarding. Hope you enjoy this one my dear Moosers! I will be downloading the game in a few minutes as i cannot resist such a great deal.
(Expiry: Unknown)