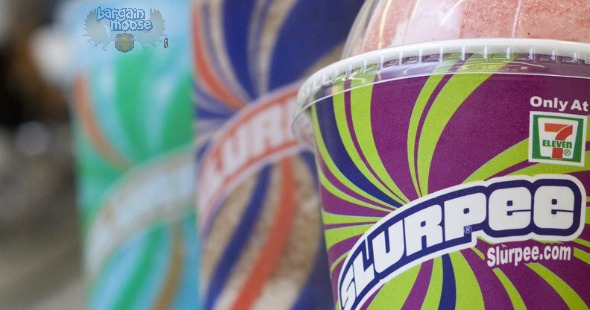 Seriously, I think I am addicted to the 7-Eleven Slurpees. You can get a free Slurpee today from your closest 7-Eleven Canada store and it is super simple, you just need to download their mobile app and then click the "scan & save" button within the app to see this offer.
To start, you will need to download the 7-Eleven App for your smartphone or tablet. Once you have this app downloaded, you will be able to "redeem" the offer for a free medium Slurpee. Once you click "redeem" you will only have 15 minutes to physically enjoy the offer, so make sure you are at your 7-Eleven Canada store before activating. This free Slurpee offer will be available today only, for Free Day Friday.
I find that the flavours can vary by location, but there are usually quite a few to choose from. The Slurpee flavours can include:
Crush Manitoba Mosquito Bite, Crush Sour Cherry, Crush Golden Fruit Smash, Crush Strawberry Limeade, Crush Strawberry Limeade, Crush Cherries n' Cream, Crush Classic Bubblegum, Crush Blue Raspberry
Coca Cola, Pepsi, 7-Up, Root Beer
Crush Lite Grape, Cream Soda, Orange
Mountain Drew Super Nova, White Out, Red Code Cherry Alert
Brisk Raspberry Iced Tea, Strawberry Melon, Lemonade
New Mountain Dew Voltage
…and more too!
The "Lite" types of Slurpee flavours have 30% less calories, with the same great taste. I find I usually do not get just one straight flavour though. If I were to choose, I would start with the rich and delicious Coca Cola. Then I would add some Crush Blue Raspberry to make things a little interesting. I would add Crush Cherries N' Cream to the top, just to keep things delicious.
What is your favourite kind of Slurpee mix Moosers?
(Expiry: 17th July 2015)