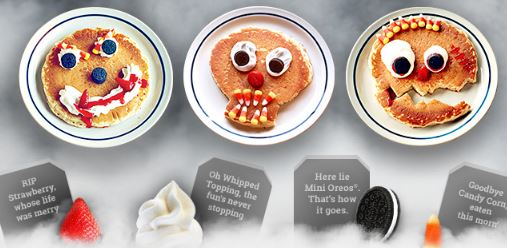 Wow! How about some of these for a cool Halloween treat? On October 30th you can take the kids into your local IHOP Restaurant to enjoy one free Scary Face Pancake for each kiddo. I think these are just adorable!
When I first heard about this offer I thought that IHOP Restaurants were only in the U.S., but boy was I wrong. There are actually quite a few of these restaurants throughout Canada. They are mainly in the provinces of British Columbia, Alberta and Ontario. Lucky me, my closest IHOP is only 30 minutes away and I think I will take my kiddo there Friday morning to enjoy these enticingly cute (and totally free) pancakes.
Look at how adorable these pancakes are, seriously. They look like they are topped with a variety of different sweets like whipped cream, candy corn, oreos, strawberries, and more. If you don't have an IHOP near you, you could always make some of these for yourself at home. They wouldn't cost much to make and I am sure you could get creative with the toppings by hitting up Bulk Barn. Get even more creative by adding food colouring to your pancakes to replicate The Hulk or your child's favourite character. Gosh, pancakes can be so much fun. They are also quite easy to make if you wish to go that route. Perhaps stay tuned for a scary pancake tutorial?
So about that fine print. The Scary Face Pancakes have been back at IHOP for the entire month of October, but just for one day you can get them for free. On October 30th kids under the age of 12 will get a free Scary Face Pancake between 7 AM and 10 PM at participating locations. You will be limited to one free pancake per child, so if they normally eat more than one I would suggest getting an order of pancakes as well. Also this offer is valid on dine in purchases only.
(Expiry: 30th October 2015)