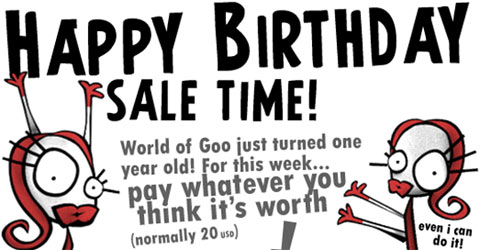 This little puzzler game from 2dboys can be downloaded practically for free - it's called World of Goo! They are only asking for a donation, and the minimum is set at $0.01. You could of course be a little bit more generous than that… perhaps even donate a whole dollar?
The game is normally $20 to buy directly, it's even $20 on Steam!
But beware, this news must be spreading all over the world and their servers are really taking a bashing, with frequent down-time. I even saw this message:
I am too stressed out. Try again in a minute or two. -the Server
Just be patient with it, you have until the 19th of October 2009 to take advantage of the deal. So if the site is slow or isn't working, just come back later.