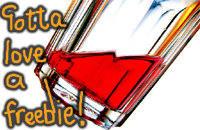 This is one of those times when savvy shopping and coupon clipping can get you a really excellent deal! Between the 28th of March and the 10th of April 2009, Shoppers Drug Mart Canada is offering Ocean Spray cranberry sauce cartons for only $0.99. What you should do is print out the Ocean Spray coupon from this previous blog post, and use it to get the Ocean Spray sauce for free!
Now, the coupon doesn't say that it's a limit of one per person, so I reckon you should print out quite a few and claim a few freebies!! You may have to pay the taxes on the Ocean Spray item, but even so, you're getting a great bargain!
Please let me know if you manage to do this successfully, and how many bargains you get!
Thanks to HannyB!